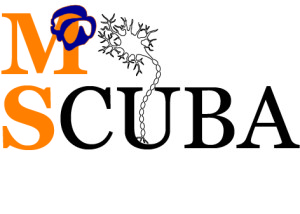 The time has finally come again.  We are officially starting the kickoff for our next SCUBA dive trip.   Ever since the publication of the groundbreaking observations that occurred when Dr. Becker took a group of paralyzed Veterans SCUBA diving, people have been asking when there will be another study and if they could be a part of it.  Here is your opportunity!
Our next trip will occur in the spring or early summer 2018 to the beautiful Cayman Islands.  We are in the process of setting up a fundraiser with the goal of giving a group of people with multiple sclerosis the opportunity to experience one week of open water SCUBA diving.  We will bring in highly experienced diving instructors from all over the US to ensure a safe and fun experience.  Dr. Becker will again collaborate with the Cody Unser First Step Foundation (CUFSF) and his Johns Hopkins colleagues to observe and document how people with MS respond to SCUBA diving.
The last trip was documented by an Emmy Award winning film crew, the result of which is the documentary "Sea of Change" that can be seen on PBS stations all across the country.  While we can't promise that we will have the film team with us again, we are certain that the trip will attract a lot of media attention.
If you have multiple sclerosis or know of a family member or friend with MS who would like to be on this trip, please send an email with your name, phone number and email address to MSSCUBA@INIRehab.com.   We look forward to hearing from you.