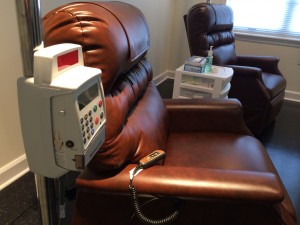 Our office is equipped with a state-of-the-art infusion center.  Our comprehensive Infusion Service are overseen by skilled physicians and by specialty nurses.  We are able to serve most commercial payers in addition to Medicare, Medicaid, and managed care organizations.  Our comfortable modern Center can coordinate infusion therapy between patients, hospitals, and other infusion centers.
We have ample free parking conveniently located off the 695 Beltway.  We offer snacks, free wireless internet, and TV in very comfortable infusion chairs.
We provide the following therapies:
Lemtrada (Alemtuzumab)
Ocrevus (Ocrelizumab)
Soliris (Eculizumab)
Uplizna (Inebilizumab)
Aduhelm (Aducanumab)
Vyepi (eptinezumab)
IVIG
Radicava (Edaravone)
Remicade, Orencia, and Renflexis (Infliximab)
Tysabri
Steroid Therapy
The referral process is quick and simple by contacting our office directly at 410-828-4629 or via fax 410-828-4783.