What do you think about when you hear the term "yoga?" Do you think the more flexible you are, the better? Do you think of a hot, over-crowded room? Do you think the faster you move the more benefit you get? When not done properly, certain yoga classes like the ones you may imagine can unfortunately lead to injury of a muscle or joint in the shoulders, low back, neck, hips, etc. Indeed, there are excellent yoga instructors in this world that would be more than capable to teach their yoga clients correct form to decrease injury, however; what if a client is not so lucky? As a physical therapist seeking to learn more about yoga, this brought me to the question- what else is out there?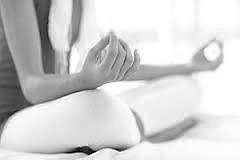 My search brought me to a program that not only taught yoga therapeutically, but also used evidence based research to guide the curriculum. I was lucky enough to find the Professional Yoga Therapy certification program, which tailors learning about yoga from a medical perspective with other licensed professionals. The graduate or post-graduate program includes a variety of learning formats including online education, on-site labs, and a community project. It is also an accredited program by state and national boards for continuing education, and thus differentiates itself from a general yoga therapy school or program. This was exactly what I had been looking for, and allowed me to combine my interest of yoga with the neurological population.
The term yoga actually means to bring together or join, which in a general sense can mean uniting the mind and body together through various physical postures and meditation. It can be very daunting and overwhelming for someone to attend a regular yoga class for the fear of not knowing what to expect, or the fear of not performing like the other students. When you have specific limitations, it is that much harder. Nonetheless, yoga is beneficial to people of all ages, genders, backgrounds, and mobility levels. Modifications can be made with various props like yoga blocks, blankets, bolsters, chairs, and straps to ensure each client is successful.
Are you looking to improve any of the areas below in your life?
– strength
– flexibility
– spasticity
– depression
– fatigue
– balance
– stress levels
– sleep
– pre/postnatal health
If your answer is yes, then trying yoga may be a great avenue to explore.
In early November 2014, INI implemented a therapeutic group yoga class. This is a very exciting opportunity, and a rare chance to perform yoga in this specific environment. It is a small, group class with two yoga instructors teaching for increased hands on adjustments and increased safety with each pose. At INI, we specialize in spinal cord injury and Multiple Sclerosis so we are very familiar with neurological disorders, and how to adapt the poses for each patient. Our goal is for each client to be provided with a safe setting to practice yoga, in order to obtain all of the benefits. This is a great adjunct to our already unique approach to therapy, which involves the use of Activity-Based Restorative Therapy (ABRT) and Functional Electrical Stimulation (FES).
For further information about the community yoga class offered at INI, please call 410-828-4629 or e-mail mcbryde@inirehab.com.
To learn more about the benefits of yoga, please check the blog frequently for future information.
– Jackie Thomas PT, DPT, PYT-C