The International Neurorehabilitation Institute is one of the nation's only freestanding, independent rehabilitation practices for adults and children suffering from paralysis.
Founded by nationally recognized Johns Hopkins neurologist Daniel Becker, M.D., we see patients with spinal cord damage caused by: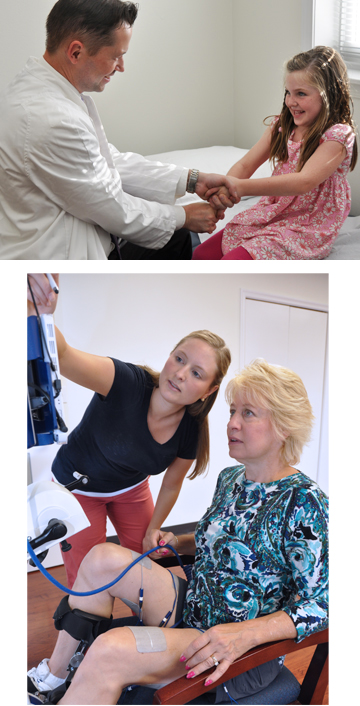 Multiple sclerosis
Transverse myelitis
Neuromyelitis Optica Spectrum Disorder (NMOSD)
Traumatic injury
In addition we have experts who see patients with:
Headaches
Parkinsons disease
Movement disorders
Spasticity
Dystonia
Needs for EEG, EMG, and Nerve Conduction Study Testing
Restoring function—and quality of life
At our state-of-the-art facility in Lutherville, Maryland, we offer the most current treatments and therapies available for individuals living with paralysis. Here, our focus is on chronic neurorehabilitation with an overall goal of restoring function and giving patients a greater quality of life. Through our groundbreaking work, we offer rare hope for individuals who would otherwise be resigned to a wheelchair.
Comprehensive, individualized rehabilitation programs
Overseen by Dr. Becker, our team designs rehabilitation programs based on a patient's unique needs. Through the program, we address medical concerns related to the patient's specific spinal cord issue, such as bowel and bladder problems, spasticity and pain management.
We specialize in activity based restorative therapies (ABRT) including functional electrical stimulation. These interventions are based on the fact that the injured nervous system requires optimal levels of activity in order to regenerate. We tailor highly individualized rehabilitation programs for our patients enabeling them to follow these programs at home as well. Throughout this process, all therapy interventions are closely monitored by Dr. Becker and his team.
As a Johns Hopkins Neurologist Dr. Becker is an investigator on several clinical trials in multiple sclerosis, transverse myelitis and spinal cord injury. Some of these trials have taken him out of the clinic and laboratory into the deep ocean (i.e. SCUBA diving) or high altitudes (i.e. adaptive skiing).
To learn more or make an appointment…
Call our office today at 410-828-4629 or e-mail appointments@inirehab.com.